8 Tips To Create A Consistent Yoga Practice For Yourself
struggling to be consistent with your yoga practice? 8 tips how to create a consistent yoga practice
If you are struggling to create a consistent yoga practice you are not alone. This is something students ask me about this all the time. They know they feel great when they are practicing yoga on a regular basis but they still struggle to fit it into their lives. This is largely due to our lives being in a constant state of go, go, go. We have not learned as a collective society how to be because we value doing so much more, but that is a conversation for another time. I want to help you create a consistent yoga practice. 
Another common barrier to haveing a consistent practice is that most people think that in order to benefit from yoga that they need to practice for at least an hour or more. This is because most yoga studios and places that offer yoga classes offer classes that are an hour or longer. But the time that you practice is really not the most important thing being consistent with your practice is.
Having a consistent yoga practice is key because every time you practice you recieve the many benefits. Even if you only have fifteen minutes to practice it is still beneficial. It is really all about creating a yoga practice that fits your lifestyle and your goals. When you do this you will find being consistent with your practice gets a whole lot easier.
so let's jump in to the tips to help you creat a  consistent yoga practice and make it a priority in your life.
1. Know Your Why
Why are you interested in practicing yoga?
Are there certain benefits you are hoping to experience?
Are you working toward a specific goal?
Knowing the reason(s) why you want to have a consistent yoga practice will help a lot when you find you are not in the mood or are looking for an excuse not to practice. Write down you reasons for wanting to be consistent with your practice and put them where you can see them so that you have a constant reminder of why you are practicing.
When you see something on a daily basis it also helps you stay consistent because it keeps it fresh in your mind. Making you less likely to forget that you wanted to make your practice a priority. 
2. Identify How Much Time You Have to Practice
Look at your schedule and be honest and realistic about how much time you have to devote to your practice. Do you want to practice daily? Do you want to practice every other day?
You don't have to practice for the same amount of time every day. Let go of the idea that your yoga practice needs to be a certain length to be beneficial. The truth is any time you practice will help you, and having a consistent yoga practice is more important than practicing for an hour or longer if you are not consistent.
Once you have figured out how much time you have and the frequency in which you want to practice, put it into your schedule. This will help keep you accountable.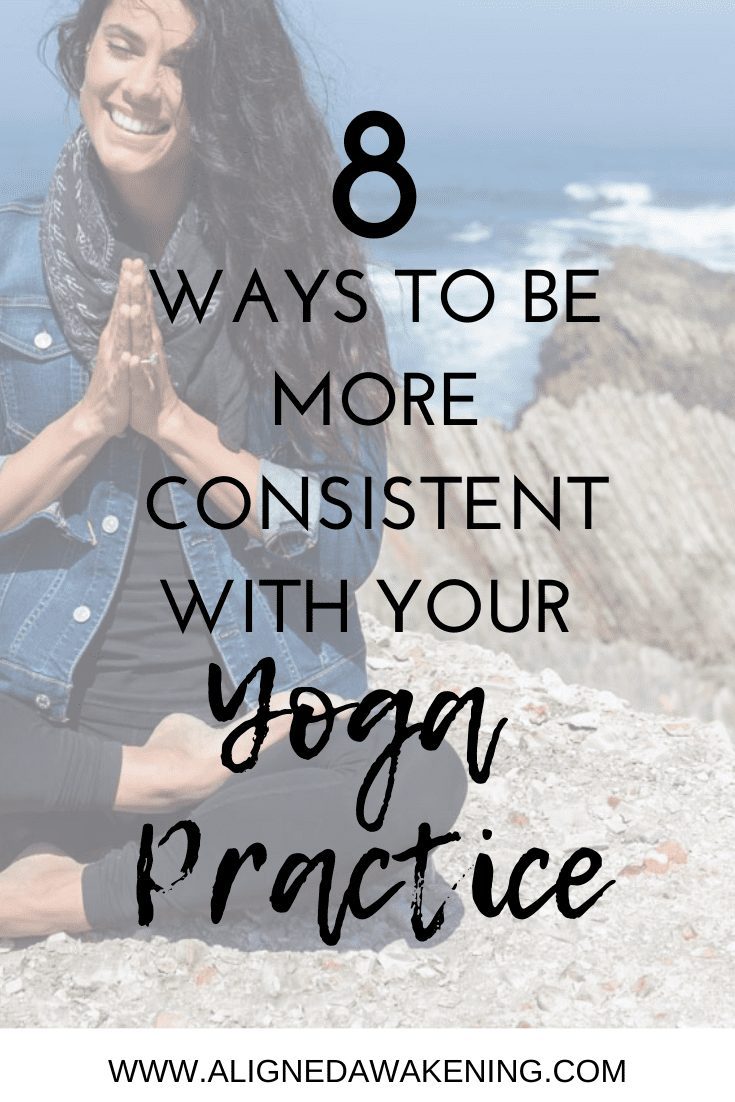 3. Put a Reminder Alarm in Your Phone or Calendar
This is yet another way to make sure that you stick to the schedule you have created for yourself. Set the alarm fifteen to twenty minutes before you want to start your practice so you give yourself enough time to get set up.
If you are practicing at a studio, or need extra time to get ready for your practice, set your alarm accordingly.
You can also set alarms throughout your day to remind yourself to take a quick break and do some quick postures, breathing exercises, or meditation to help maintain focus and good posture while you work.
4. Start or End Your Day with Yoga
Often I find starting or ending the day with yoga is a great way to stay consistent with my practice. Doing this makes it a part of your morning or evening routine, which makes it easier to stay consistent.
I love starting my day with my yoga practice. It helps me start the day with energy and it sets a positive tone for the day as well. I often find when I start the day with yoga also have less aches and pains throughout the day.
Ending the day with yoga is also amazing. It lets you wind down and let go of the day. Releasing any tension and stress that has built up over the course of the day. I often find when I practice before going to bed I have an easier time falling asleep and sleep better through the night.
For all of those reasons early morning and evening classes at all of the studios I have taught have been very popular. And I also saw those students having the most consistent practices.
5. Establish a Home Yoga Practice
Getting to a studio or a gym is not always the most convenient and then becomes an excuse not to practice. That is why I always encourage all my students to practice at home especially when they are concerned about having a consistent yoga practice.
When you have a home practice there is no excuse for not practicing. Having a home practice is also great because you can really tone in and listen to your body. You can experiment with holding poses for different periods of time, different sequencing, and so much more. Where that is not possible in a group class.
Your home practice is just for you, and that is how yoga was originally taught and practiced. If you need help creating practices to meet your goals and fit your lifestyle I offer custom yoga programs for students. I would love to create a home program for you to help you be more consistent.
6. Have a Diverse Practice
There are so many different styles of asana practices and they all have different benefits. I always encourage my students to incorporate different styles into their practices, as well as making time for meditation, breath work, studying the yamas and niyamas, and making their practices part of their lifestyle.
I am a huge advocate of yin yoga and restorative yoga. It is very different from the other fast paced yoga styles. often most of a yin or restorative practice takes place close to the ground and poses are held for a much longer duration.
I believe that it is a much needed style of yoga because our lives are often very fast paced, so we can benefit greatly from slowing down. And that is exactly what these styles have to offer.
Don't be afraid to try out different styles you might be surprised what you learn from each and the different dimensions each style adds to your practice. 
Here are a few of my favorite styles: Iyengar, Jivamukti, Forest Yoga, Yin and Yang Flows, Candle light yoga, Vinyasa, and Hatha. Remember it is your practice, have fun, explore, get creative, and keep an open mind when trying new styles and classes with different teachers. There are so many amazing free classes available on youtube. So don't be afraid to try something new.
7. Set an Intention/Goal for Yourself and Get Accountability
When we want to make a conscious effort to create any type of change in our lives, setting an intention or goal for ourselves can be very helpful. It allows us to track our progress and reminds us of why we started when we are feeling less than motivated.
Doing this also allows us to hold ourselves accountable to the intention or goal that we have set. If you struggle with holding yourself accountable, find a friend, teacher, or coach that you can share your intentions with and they can help keep you accountable and even help you with other aspects of your yoga practice. I am more than happy to help you if my style resonates with you. I would love to help you create a consistent yoga practice that fits in with your goals and lifestyle. 
8. Create a Space in Your Home for Your Practice
Having a space for your practice can be a huge help when it comes to having a consistent yoga practice. It doesn't have to be anything extravagant it can be very simple. All you need is a clean space with enough room for your mat and the ability to move freely while you practice.
I have found that being able to leave my mat out, even if it's rolled up, helps me stay consistent with my practice. This is because simply seeing my mat reminds me that I need to practice. It also removes a step of having to take my mat and other props from one place to where I am going to practice. The less obstacles or steps between myself and my practice the better.
Try it out for yourself and see if it helps you. You don't have to have a large house to do this either. I have done it in the many places I have lived even when I only had a very small bedroom. There is always a way to make it work if you are truly committed to your practice and make it a priority.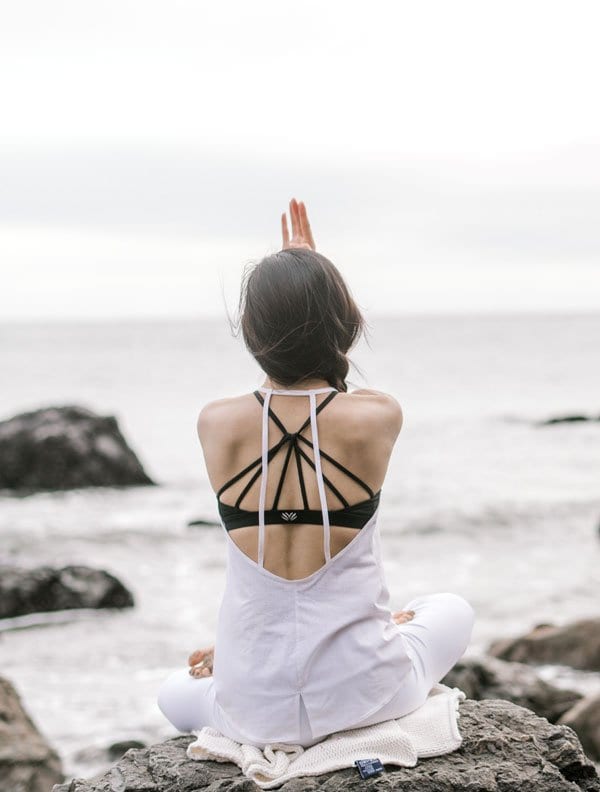 I hope that these tips have been helpful and make a difference in your ability to create a consistent yoga practice. If you have any questions about yoga or your practice feel free to leave a comment or send me a message at ali@alignedawaking.com. I am excited that you have decided to make having a consistent yoga practice a priority in your life. I know that you will benefit greatly as a result. I have seen it in my own life and the lives of my students. 
You can practice with me for free on Youtube and Instagram. If you are interested in private lessons please message me or if you would like a custom home practice designed for you you can do so here.