Free transformative program to help you align mind, body, and soul, and create a more meaningful, fulfilled, and purpose driven life over the next 90 days.
… Repeating the same cycle day after day, month after month, seeing no change or progress 
… You have tried program after program, read all the self help books and are still feeling stuck
… Feeling like nothing you do moves you any closer to where you want to be
… woke up with a plan for the day that gets you closer to where you want to be
… had a better relationship with yourself, your body, and food
… were apart of a community of like minded people who were all working on bettering themselves
… had time to the things that recharge, inspire, & uplift you?
Ready to commit to up-leveling yourself and your life?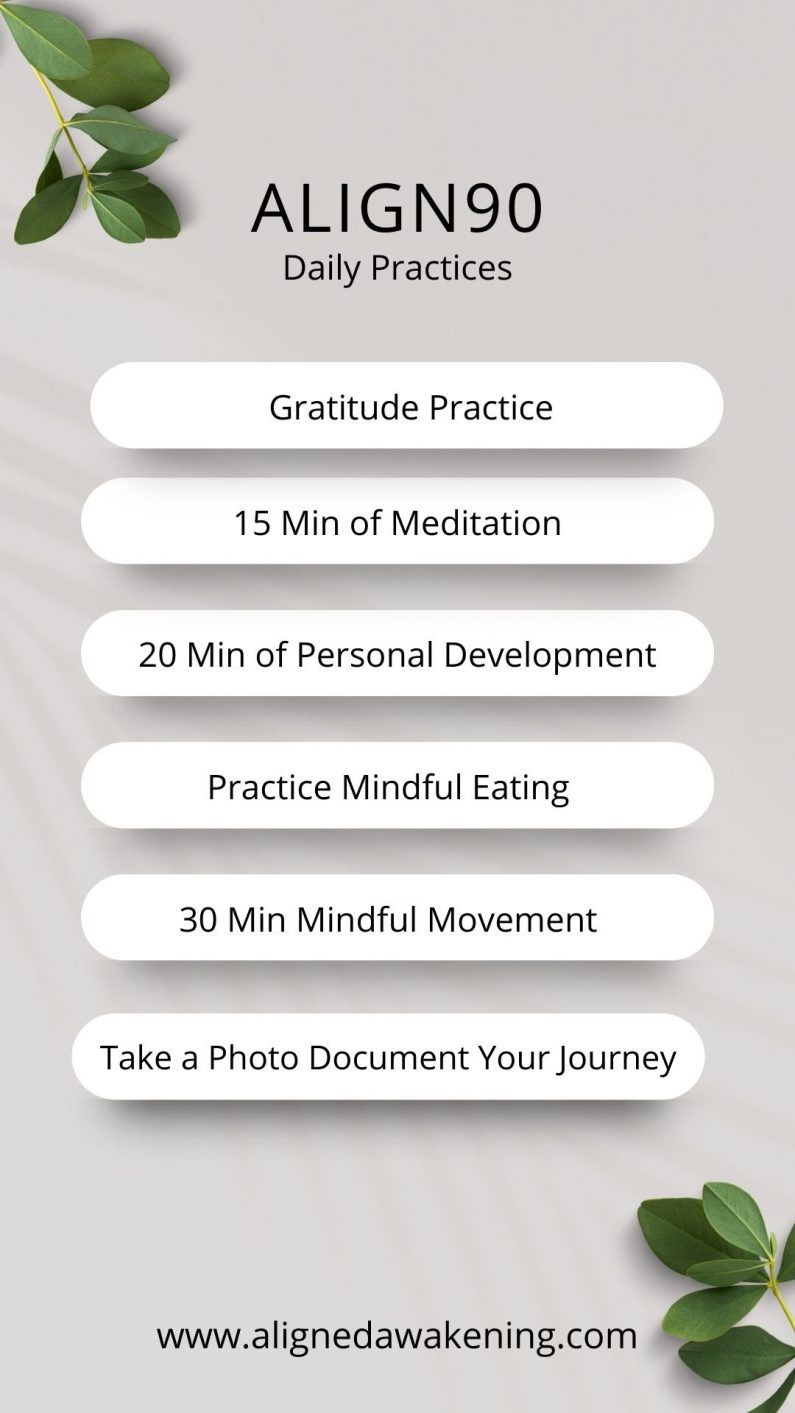 Align90 is a simple daily program that was to help people bring their lives into alignment. It is about committing to yourself and making the decision to stop making excuses and to start making choices that align with  creating a life of meaning, fulfillment & purpose.
Align 90 will help you:
– Become More Self Confident
– Build Self Trust
– Have a Healthier Relationship With Your Body
– Increase Self Love
– Connect/Re-Connect with yourself 
– Have a Healthier Relationship With Food
– Develop Clarity & Peace of Mind
– Create & Cultivate a life of Meaning, Fulfillment & Purpose
Hi! I'm Ali,
I created Align 90 because I know what it is like to feel like you are doing everything you can to just make it through the day. I was the girl who was living my life for everyone but myself and it was exhausting.
From the outside it looked like everything was great. I started college when I was 15, was accepted into a prestigious graduate school at 20, and I alway put on a happy face.
But on the inside I was a disaster. I never spoke kindly to myself, none of my achievements were ever good enough, my body was a constant source of stress and anxiety, I was constantly at war with myself, and I was always worried about what everyone else thought. I had no boundaries what so ever and didn't know how to say no. I was totally disconnected from myself mind, body, & soul.
For years I hid everything. Always striving to accomplish more, do what other people wanted me to do, sacrificing my happiness for the happiness of others, thinking doing so would finally make me feel like I was enough. They never did.
It wasn't until I hit rock bottom that I realized I couldn't keep living like this. I had to face the fact that I had survived by creating very unhealthy coping mechanisms to deal with the wounds of my past.
I had no choice but to face everything I had been pushing down for years. I knew if I wanted to create the live I knew I was meant to live I had to stop believing I was a victim and commit to creating lasting change in my life.
On my journey I went from being consumed with negative thoughts and behaviors while pretending everything was fine to being a healthy, happy, purpose driven entrepreneur who lives her life in alignment.
I was able to make these shifts because I made the decision to stop making excuses and get wildly consistent with the tools, practices, and activities that would truly make a difference in my life. That is why I have created the Align 90 program! It combines the most impactful tools and practices that allowed me to create change in my life and that I have been using for years with my clients.
I  believe in making tools and practices accessable and affordable to anyone and everyone who is committed to bettering themselves and their lives. Which is why this program is totally free! If you are ready to create lasting change Align90 is for you, start today.