In 90 days you will move byond old habits, beliefs, and patterns that have kept you feeling stuck, stressed, exhausted, and in a pattern of simply surving.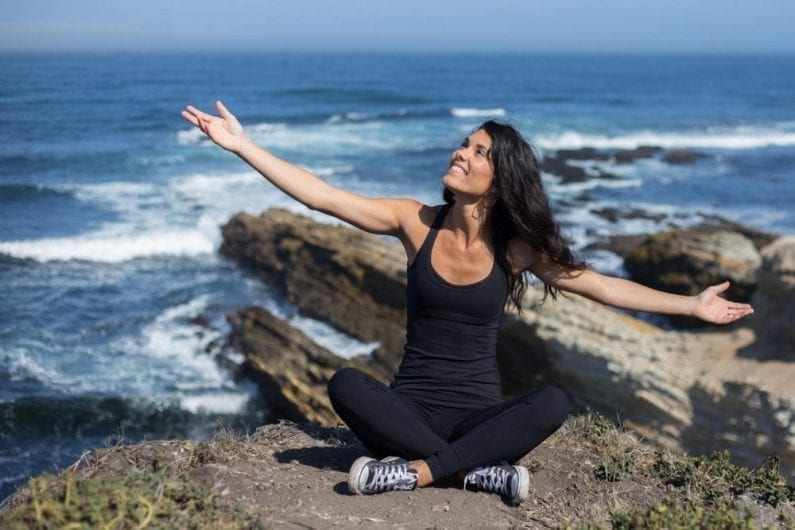 …Your choices were no longer fear-based or influenced by limiting beliefs
… You were able to look back at your past and have compassion & understanding for who you used to be
… You were free from the stress and anxiety of trying to please everyone all the time
… had time to do the things that recharge, inspire, & uplift you
…were free from societal & family expectations about who you should be
… had confidence and belief in yourself to create a life you truly want to live
Want to make this vision for your life a reality?
Beyond Survival is your step-by-step guide to creating this and more.
Working with Ali is amazing! Before I met Ali I was trying to shape and change myself into who I thought others would like, instead of just being myself. She cleared that up very easily and gave me, the most impactful advice I have ever gotten, which is that I need to own who I am. Through our work together I learned how to be and show up as my authentic self in my relationships and it was amazing! She really helped me get out of my own way. I highly recommend working with her.
 Most people who are stuck in survival mode feel lost, overwhelmed, and stuck. They may try to breakthrough by:
Following ALL the inspirational influencers on social media but quickly find themselves in a shame spiral of comparison.

They buy self-help books, subscribe to podcasts, sign up for free workbooks and launch themselves head first into tons of new information.

Then life gets in the way, books end up collecting dust, there are too many podcasts to catch up on, their email inbox is full, and they feel confused and overwhelmed by all the conflicting advice.

They end up exactly where they started but feel deflated and lack motivation.
Eventually they decide to just keep surviving as they had been, since that's what they have been doing all along anyway. Sound familiar?
I get it, I was there more than once. Feeling stuck and overwhelmed is painful. Knowing you are meant for more but not knowing how to get there, watching days and months pass, creates so much stress and anxiety.
But it doesn't have to be this way.
Lifestyle Inventory
You will start by uncovering the root causees of your limiting beliefs, self-sabotage, and behavioral patterns that are keeping you stuck, stressed, and in survival mode. Taking a full inventory of your life will allow us to  begin the process of  connecting you back to yourself, mind, body, and soul.
Building Self Trust
You will learn how to rewire your brain with beliefs that support your growth. This process will allow you to transform self-doubt and self-sabotage into self-love and self-confidence, while shifting away from comparison so that you can feel in control of creating the life you were meant to live.
Creating Alignment
You will have access tools & practices that will support you in aligning your life by examining the things that are both working and not working presently in your life. We will focus on strengthening your intuition to rebuild belief in yourself.
Stepping into Your Power
You will create a detailed vision of the life you desire to build for yourself. From this place of confidence and clarity  you will learn how to take aligned action in order to turn your vision into reality & become the creator of your life.
What Makes Beyond Survival Different . . .
90 day intuitive life + mindset mentorship program to help you get unstuck and create an aligned, meaningful, and purpose-driven life.
You will receive mentorship from someone who has gone beyond survival, creating alignment, passion, and purpose in life.
Introduces embodiment practices for mind, body, and soul integration.
Provides you with proven tools and practices to help you experience lasting transformation
Teaches you how to connect to your intuition and inner knowledge in order to fully trust yourself and turn with in for any answers you seek
Beyond Survial is a 90-day program that provides you with: accountability, support, and the framework necessary to help you go beyond survival and create the life you are meant to live.
Personalized Mentorship
 You will get access to a weekly curriculum, live weekly coaching sessions, and on-demand support as needed, to help you breakthrough and get results.
​
Community Support
Personal growth can feel lonely, that is why we believe so strongly in group coaching & forming intentional communities. You will join an inspiring community of people supporting and cheering on each other through their own unique journeys.
Group Accountability
You will be a part of a group that has a shared interest in creating lives with meaning, purpose, and fulfillment. Where you will create life long friendships and have a build in support system.
​
 Ali has helped me to put things into perspective and shift my mindset in a way other people have not been able to. She helped me with physical and emotional issues I had been dealing with for years and really helped me to come to terms with and start to heal my disordered eating. She has also helped me discover what it is that I want to do with my life. I highly, highly suggest working with her, she is just amazing!  
I highly recommend working with Ali. She is very gentle and supportive, two qualities that I needed as I started working through the self sabotaging patterns I discovered. Working with her has changed the way I look at and relate to myself. I am super grateful for this work and program.
Hi! I'm Ali,
I created Beyond Survival because I know what it is like to feel like you are doing everything you can to just make it through the day. I was the girl who was living my life for everyone but myself and it was exhausting.
From the outside, it looked like everything was great. I started college when I was 15, was accepted into a prestigious graduate school at 20, and I always put on a happy face.
But on the inside, I was a disaster. I never spoke kindly to myself, none of my achievements were ever good enough, my body was a constant source of stress and anxiety, I was constantly at war with myself, and I was always worried about what everyone else thought. I had no boundaries what-so-ever and didn't know how to say no. I was completely disconnected from my mind, body, & soul.
For years I hid everything. I was always striving to accoplish more, do what other people wanted me to do, always sacrificing my happiness for the happiness of others, I thought doing so would finally make me feel like I was enough. It never did.
It wasn't until I hit rock bottom that I realized I couldn't keep living that way. I had to face the fact that I had survived by creating very unhealthy coping mechanisms to deal with the wounds of my past.
I had no choice but to face everything I had been pushing down for years. I knew if I wanted to create the life I was meant to live that I would have to stop believing I was a victim and commit to creating lasting change in my life.
On my journey, I went from being consumed with negative thoughts and behaviors while pretending everything was fine to actually being a healthy, happy, purpose-driven entrepreneur who lives her life in alignment and balance.
I knew that I didn't go through everything in my life and come out of the other side for no reason. . . it all happened so that I could use my experiences to help others.
Now, I have put together a program that combines all of the most impactful tools and practices that have helped myself and my clients overcome adversity. That is how Beyond Survival was born!
I have found that this program works best for:
– Individuals who find themselves at a crossroad personally or professionally
– Those who want to find  clarity, alignment, purpose, and direction in creating the next chapter of their lives.
– Anyone who has had an ah ha! moment realizing  their life is not headed in the desired direction and knows they need to change their trajectory. 
– You excel in some areas of your life but feel lost or stuck in others
– You're not sure how to move forward and make the necessary changes in your life
– You are fearful of disappointing others and often make decisions to please others
– You have found success by the world's standards, but you lack a sense of meaning and fulfillment
– You want to have deep and meaningful connections that allow you to, feel seen and appreciated in your relationships
– You want to feel confident and clear about who you are and the life you are creating
– You want to be able to put your past behind you and move forward
– You are ready to commit to yourself and do the work required to bring your life into alignment 
Throughout The Program You Will Receive:
 – 12 weeks of detailed curriculum
– Live, weekly Q+A mentorship calls
– Weekly yoga & meditation sessions to incorporate and embody your transformation
– Weekly video lessons
– Access to private supportive and inspiring community
By The End of The Program, You Will:
– Master the inner critic that keeps you from living the life you are meant to live
– Be aligned with your authentic self and confident in the direction you are choosing for your life
– Have the skills and practices to gracefully navigate anything that life presents you with
– Know that you always have all of the answers you seek inside yourself 
– Feel more connected to yourself, mind, body, & soul
Working with Ali has been a divine and powerful experience. She has helped motivate and encourage me to love myself by sincerely reviewing my thoughts and choices with a naked eye. She has provided unconditional support. Ali has a wonderful way about her, making me feel my feelings are acknowledged, accepted and appreciated.
I have worked with Ali on personal and internal conflicts and consistently. Her experience with relationships, love, entrepreneurial ventures, yoga, inner-peace and conscious nourishment of mind, body, and soul leave an indelible impact.
Her teaching style evolves and molds to each student uniquely always keeping fun, peace, and joy as the forefront focuses! I really can't say enough about how Ali has been a pillar of support for me in my practices of growth, self-love, goal setting, and love life.
When I found myself overwhelmed with all the tasks that needed to be done to have my health coaching business be visible online and in my community, I reached out for help and found Ali. I am so thankful for our time working together, as she was able to help me clearly paint my vision and identify areas I needed and wanted to focus on.
Through her gentle and supportive guidance, I was able to realize the path I was taking was not actually the one best for me and my vision. With her coaching, I was able to re-wire my brain and methods, and to see what I wanted myself and my business to become. Ali is an incredibly wise, understanding, and thought-provoking individual. I am certain that anyone who has the opportunity and chooses to work with her will be thoroughly satisfied with her approach, guidance and friendship. Thank you for everything Ali!
Since working with Ali my life has really turned around. When we started working together I was struggling with depression and I needed to lose weight very badly to improve my health. I struggled with compulsive over eating and constantly feeling that I was not good enough. Over the last eight months I have lost over 70 pounds, I have found a career I am passionate about and allows me to travel, and I have found an enthusiasm for life. Ali does not give you the answers, she helps you find them within yourself so that you are empowered to make lasting changes in your life with out being dependent on anyone but yourself.